Spiritual Warrior Retreat: The 3 Gems for Longevity
6 days of The Traditional Trinity Training for Physical, Emotional and Mental Health.
Qigong
Energy cultivation for body mind balance.
Meditation
The supreme state of no attachments.
Kung Fu
An ancient way of Mastery.
Spiritual Warrior Program
6 days of Physical, Energetic and Mental development for those that want to go deep in your body and mind transformation, giving to yourself another level of personal mastery.
The design of this journey, it's pure about Self Cultivation through Buddhist and Daoist Arts, by Aknanda Methodology.
The 3 Gems for longevity, traditional trinity training, (Qigong, Kung Fu and Meditation) was the "key" for a long life, strong health and spiritual potential.
Internal and External Training
Yin Yang, in a solid union to cover all the aspects of our self.
The training is strategically shaped to promote Energy, Stamina, Coordination, Endurance, Strength and Elasticity.
In the level of the mind: Tolerance, Equanimity and Determination. The bases for "Open your heart».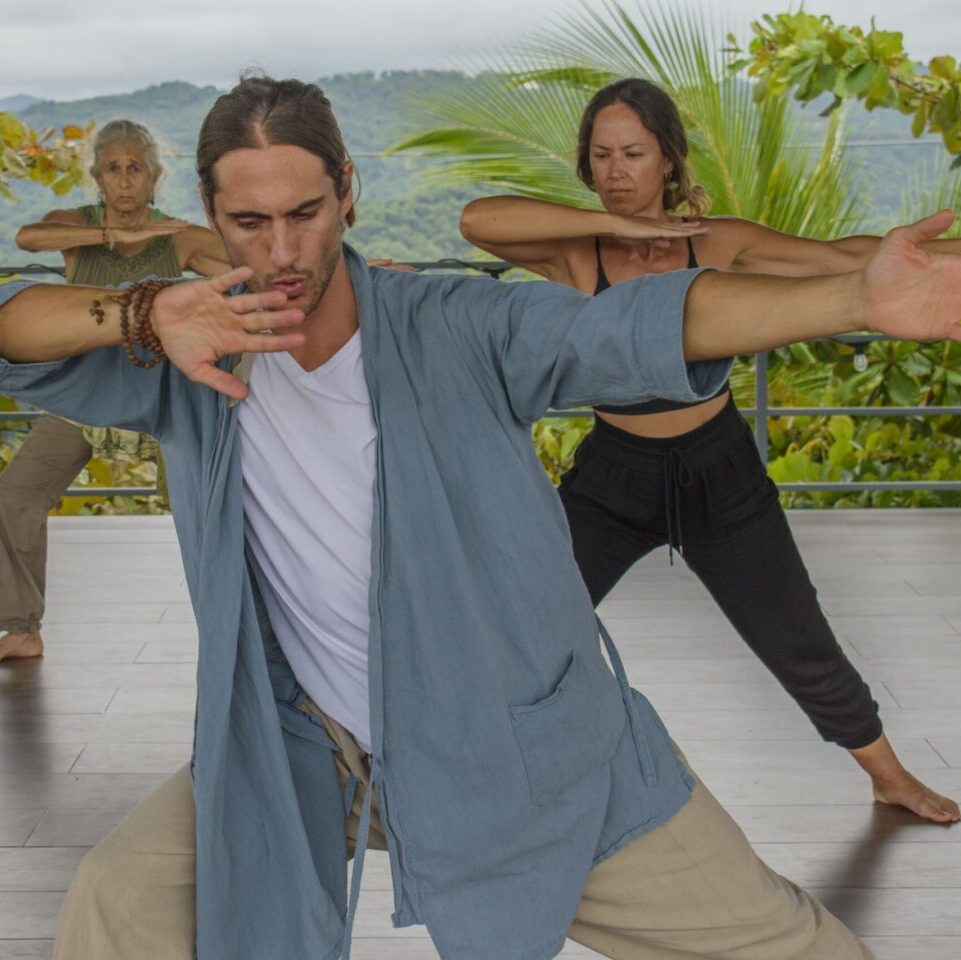 Benefits of The Spiritual Warrior Program
Reach body mind connection.
Awaken Qi flow (energy life force).
Physical and Mental development.
Self-centering and confidence.
Regain awareness of your inner world.
Strength muscles, tendons and fascia.
Detox and internal organs cleaning.
Better body alignment.
Deep Relaxation, calming stress and anxiety.
Improve elasticity, strength and endurance.
Improve concentration and coordination.
Solid immune system.
Water Mind development and understanding.
Daily healing routine.

Zen attitude.
Main Highlights
6 Days in the beautiful and peaceful Nosara Costa Rica.
Pure Self Cultivation and spiritual connection
Energy healing medicine.
New skills about your body and mind nature
Harmony, balance, empowerment, awareness, fitness.
LOCATION
Nosara Costa Rica, Blue Zone
Guiones and Pelada Beach.
DATE
July 17th, 2023 – 22th, 2023 | 6 days.
COURSE SCHEDULE
1. MORNING TRAINING
2 hours 30min: 9:30 am – 12 pm
2. AFTERNOON TRAINING
Aknanda "Spiritual Warrior" background
A little bit of History
Buddhism in China, entered the Shaolin Temple, in order to teach the monks a safe way to attain enlightenment.
He discovered that the monks were too weak for the vigorous meditation that was necessary for attaining enlightenment.
Some masters postulated that the mind was most important in spiritual cultivation and thus neglected the body.
Bodhidharma, expounded that the body too is important, because physical, emotional and mental health are all necessary for spiritual development.
The cosmovision of Bodhidharma, was equivalent to the Daoism traditional teachings for the same purpose.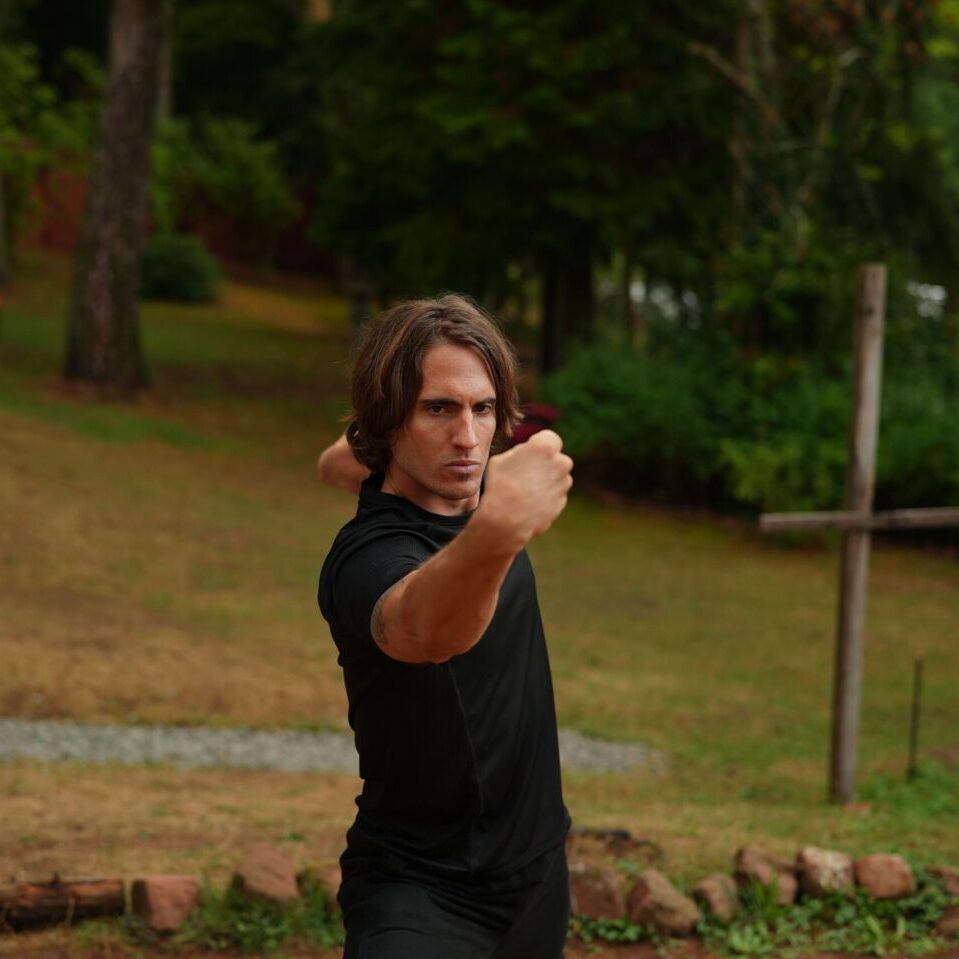 About  Nosara, blue zone 
Wild, spiritual, nature and peaceful.
Nosara is the perfect  destination among surfers, yogis, families and nature lovers. It is a place of tranquility, natural beauty, consistent waves all year long, and an open multicultural community.
The concern with environmental sustainability is part of daily live in Nosara too.
 It is located in the Nicoya Peninsula, considered one of the 5 Blue Zones of the world, that is, where people live healthily over 100 years.  The locals here can live that long because of the good quality of the air and water, lots of fresh food all year long, their active lifestyle and their deep sense of family.
Guiones Beach
A sublimely beautiful stretch of golden sand which for decades remained known only to a select few traveling surfers and yogis with the tenacity to get to, and survive in this stunningly rugged jungle environment.
You will find a beautiful and continuous green landscape that will surprise you at every kilometer.
Our sacred practice soace: The reciprocal Pavilion
The twelve sided, reciprocal pavilion at villas Ecositas Nosara is the most exuberant expression of da Vinci's reciprocal architectural concept that exists on the planet to this day.
The triple reciprocal design, where the lower two reciprocals spiral in opposite directions—defying logic and order—supports the upper reciprocal.
The whole evokes the eternal cosmic spiral, where out of chaos comes order.
Spiritual Warrior Retreat : What's include?
Full Tuition, training and theory with Bharu.

Participation Certificate of Aknanda Healing Arts Academy.

Does NOT INCLUDE  transfer or accommodation.

Book your place!
You can pay through  Bank transfer, Cash or PayPal.
Please, for more information, contact us by WhatsApp or e-mail.
Thank you!
For Reservation (not refund)
$200
per person
(price in US dollars)
Full Training Retreat
$525
per person
(price in US dollars)
Date: Julio 16 to 22, 2023.
6 days | Total hours of training per day: 5 HOURS .
For more information send an e-mail or contact me by WhatsApps.
Are you ready to reach the three gems of longevity?
Follow the path of the warrior during a 6-day retreat, strengthen your body, mind and spirit surrounded by the most beautiful natural landscapes of Nosara, Costa Rica.
Write us and reserve your place!