Qigong Teacher Training
Certification 200 hours
12 people maximum! High quality education.
We invite all those who wish to learn, deepen and walk the path of this wonderful art destined to health, to regulate emotions, to condition the physical and to sow a contemplative, flexible and determined mind.
Certified training for everyone, at all levels
This training is aimed at people with and without previous experience in Qigong or Internals Arts and / or end arts, athletes, yogis, martial artists, meditators, dancers, health professionals, psychologists, businessmen, etc.
Modality and GENERAL ORGANIZATION
200 hrs Teacher Training Course Certification in Nosara, Costa Rica.
FIRST STAGE – Online Training (3 months)
Welcome Online Live introductory session with Q/A.
Special Videos material with Fundamental content and qualities:
Exercises and lectures. You will receive one video per week to practice and internalize.

3 (three) Online Live sessions with Q/A.
SECOND STAGE – Direct Training (3 weeks intensive / 20 days)
21 days of training in a peaceful place in Blue Zone Nosara, Costa Rica.
Schedule: Mon – Fri Morning and Afternoon Training, Saturdays Morning Training Afternoon free/rest Sundays all free/rest.
Practice and theory.
Benefits and objectives of our
teacher training
Benefits and objectives
Refinement and cultivation of Qi (Energy life force).
Improves the respiratory and digestion system.
More elastic and strong physical body.
Healthy bones, muscles, tendons and tissues (Fascia)
Improves blood circulation.
High Body awareness coordination.
Cognitive development.
Reduces level of stress and anxiety
Fast recovery and better sleep
Emotional intelligence regulation.
Zen attitude.
Aknanda Qigong Method
Teacher training approach
Aknanda's methodology integrates these 3 forms of practice,
traveling and learning the benefits of each one of them.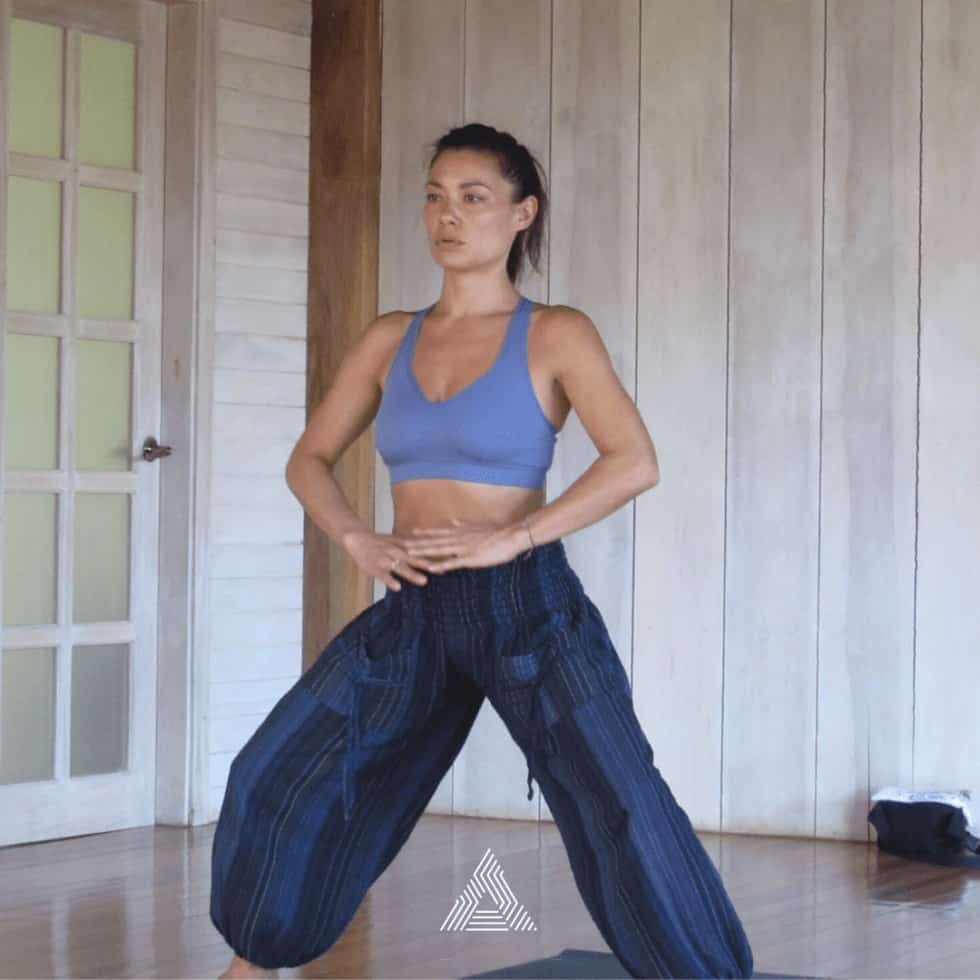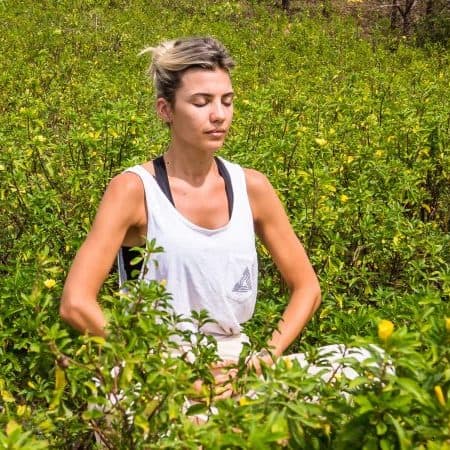 3 Fundamental Axes and
objectives
1. FUNDATIONS
Body Regulations – Transformation
Fundamental postures, stances and alignments.
Body internal stretching's and meridian openers.
Located and building the Dan Tian.
Connecting hands.
Relaxation and sinking process.
Body mind awareness.
Abdominal breathing.
2. CULTIVATING AND CIRCULATING ENERGY QI
Breath Regulation
Internal mechanics and coordination.
Movement and breath.
Awareness in 4 gates Qi flow.
Internal and external observation.
Mobilizing and sinking Qi.
3. MOVING MEDITATION AND UNIFICATION
Mind regulation
Intention inside the practice.
Sinking the mind.
Correct Yi (intention) building.
Recognizing the nature of the mind.
3 regulations become one unity.
Zen cultivation.
Theory Axes
Qigong Theory and function.
Nei Gong concept and principles.
Aknanda Qigong Method Pillars.
Taoist healing perspective and Alchemy.
Traditional Chinese Medicine background.
Taoist & Buddhist Methods and philosophy.
Qigong and modern science.
About creator and head teacher: bharu
Welcome to Aknanda Healing Arts Academy
A space to find your own wisdom and potential, cultivating health, strength and mental clarity. Zen attitude.
I am Bharú, founder, head teacher and practitioner. I am very glad and it's an honor to invite you to join this transformation journey.
More than 25 years of experience in the world of Qigong, Meditation, Kung Fu: Buddhist and Taoist arts, and Traditional Chinese Medicine. All of them are immersed in Aknanda Qigong Method. (link a la seccion)
"Through movement we create new habits, patterns/standards that help us directing our flow of energy in the best way possible".
Bharú
qIGONG AND MEDICAL QIGONg
Practice
Foundations
TQH System.
Wudang Shan Internal Arts (Wudang Shan – China).
Shaolin Qigong and Nei gong (China- Europe).
Kung Fu ( internal and External).
Se Chi She Kong (Dhammapada Dojo Zen).
Wing Chun (Moy Yat Wing Chun).
Bagua Zhang (Wudang, Cheng).
Shaolin.
Tai ji Quan ( Old Yang, Wudang, Quan).
Modern Martial Arts.
Black Belt 3 DAN Kick Boxing / Full contact.
tRAIDITIONAL ASIAN MEDICINE
Shiatsu therapist (Japanese acupressure).
Iokai and Seiki styles.
Traditional Chinese Medicine:
Therapist (Acupuncture, Herbs, Auriculotherapy).
Oriental philosophy.
Buddhism.
Taoism.
Zen.
"Live as we feel following your own wisdom,
that is the main purpose of mastery of self"
Aknanda qigong method
Aknanda Qigong is a strategically shaped method of consistently walking, practicing and learning the way of Qigong and the internal arts in order to cultivate the body and spirit.
I will be very happy to meet you and help you in your personal development as a practitioner and instructor.
It will be equally gratifying to be able to count on your presence as part of the Aknanda Qigong family.
Thanks,
Bharu
Aknanda Qigong
Teacher Training 2024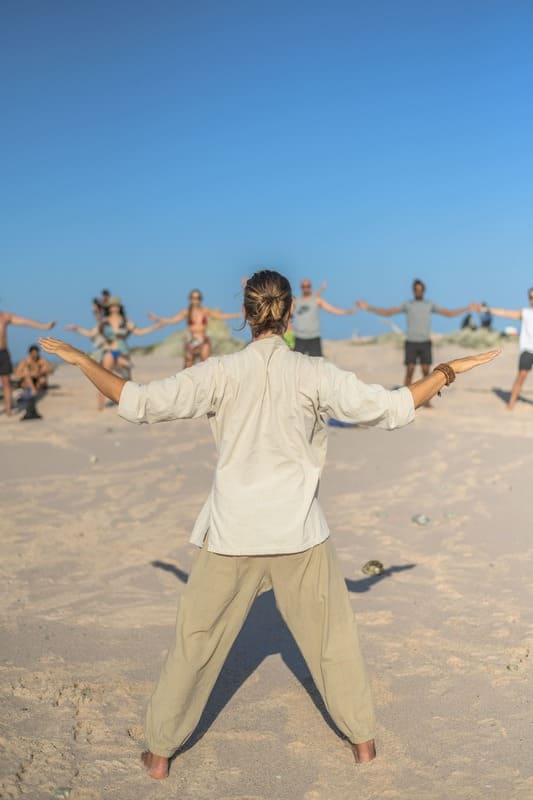 GeNERAL SCHEDULE
Starting Saturday 8th April 2024 Online Education (3 months).
Welcome Class and general Q/A.
Direct Transmission Training 20 days in Nosara Costa Rica from July 10-30th 2024.
Four Months Full Aknanda Qigong Teacher Training with Bharu.
On-Line Schedule: April to June
3 Live Sessions / Costa Rica Time Zone.
April 29th 12pm
May 27th 12pm
June 24th 12pm
Duration: 1h / 30min
Contents: Practice and Q/A
SCHEDULE TRAINING IN NOSARA: July 10-30th 2024
Mon – Fri Morning and Afternoon Training. 6hrs per day.
Saturdays Morning Training – Afternoon free/rest. 3hrs.
Sundays all free/rest or group practicing.
TRANSMISSION MODE
Aknanda Healing Arts integrates a way of teaching enriched by the oriental tradition, where the practitioner travels and discovers for himself, validating his own progress and inner wisdom; combined with western pedagogy establishing a solid balance.
SCOPE & CERTIFICATION
The main scope of the Teacher Training course is to acquire the necessary knowledge to know oneself and enjoy the tools to find one's own genuine "dynamic balance".
The second step is the opportunity to share it with others, being able to transmit the art of Qi Gong. All those who meet the practical and theoretical conditions will be able to access the certification awarded by Aknanda Healing Arts Academy.
Specific Content
Aknanda Qigong Teacher Training 2024
About on line Syllabus
Practice
Foundations
Sitting QIgong practice: Quieting the mind and locating the center.

Qigong openers / Warm up full routine ( Joints, Energy Channels, Fascias).

Standing Qigong: Wuji Posture + 3 Zhan Zhuang exercise.

Abdominal Breathing / Baby breath.

Building the center (Dan Tian Gong).

Qigong Breathing Routine.
About Direct Transmission Syllabus
(All Foundations+)
Buddhist Qigong set / form. Strong and flexible body.
Yi Jin Jing Principles.
Exercises for healthy organs, muscles, tendons and meridians.
Developing awareness through the movement.
Health massages.
Daoist Water Dragon set / form. Dynamic Qigong TaiJi routine for health, vitality and longevity.
Explanation of each exercise.
Practicing each exercise.
Full sequence as a moving meditation.
Sitting Qigong / Neigong / Internal Alchemy.
Metal Breathing Meditation.
Zen Meditation.
Theory
Aknanda Qigong Academy.
Qigong History.
Lines of Qigong (Medical, Martial, Spiritual).
How does Qigong work? Like an holistic training system.
What is Qi? Why is Qi relevant for health?
3 Treasures (3 Harmonies).
3 important centers (Dan Tien Logics).
Aknanda Qigong 4 Pillars.
Buddhist and Daoist Qigong?
Hard and soft Qigong. Differences, background and philosophy.
Aknanda Qigong Method as a middle Way.
Qigong is a Zen cultivation practice.
3 Qigong Modalities.
Traditional Chinese Medicine MTC.
12 primar Meridians.
5 Elements Theory.
Yin Yang Theory and application in the practice.
How to Teach?
How can we organize a practice/class

Which are the basic steps for a complete Qigong routine

How to teach in a Group.

How to teach Private. 

Developing observation and  what the person sincerely need?

Welcome class speech

How to run my own Qigong path as a professional.

Put in value the Traditions!
How to Teach?
After finishing your Teacher Training

When Qigong is converted into a Gong Fu path.

Keep your own practice alive.

Asimílate the art as a part of Yourself
About  Nosara, blue zone
Wild, spiritual, nature and peaceful.
Nosara is the perfect  destination among surfers, yogis, families and nature lovers. It is a place of tranquility, natural beauty, consistent waves all year long, and an open multicultural community.
The concern with environmental sustainability is part of daily live in Nosara too.
It is located in the Nicoya Peninsula, considered one of the 5 Blue Zones of the world, that is, where people live healthily over 100 years.  The locals here can live that long because of the good quality of the air and water, lots of fresh food all year long, their active lifestyle and their deep sense of family.
Guiones Beach
A sublimely beautiful stretch of golden sand which for decades remained known only to a select few traveling surfers and yogis with the tenacity to get to, and survive in this stunningly rugged jungle environment.
You will find a beautiful and continuous green landscape that will surprise you at every kilometer.
Whats include
Aknanda Qigong Teacher Training 2024

200hr Full Tuition, training and theory with Bharu.
Full video access during 1 year.
3 live sessions.
Qigong Manual.
Certificate of Aknanda Healing Arts Academy.
What's Not Include?
Accomodation and meals.
Airfare (international and domestic).
Transportation to Training place.
Additional Excursions.
Main higlights
2 Ancient Qigong Forms.
Buddhist and Daoist Perspective and Wisdom.
20 days in the peaceful blue zone of Nosara, Costa Rica +
Online Education.
Small group, 12 people maximum in the classes. High quality personal education.
FULL TEACHER TRAINING
(on-line + direct transmission)
ONE PAYMENT  USD 2600
DEPOSIT 500 USD
(For reservation not refund)
PAYMENTS PLAN
 You can pay the Teacher training in
3 installments of USD 867.
You can pay through PayPal, Bank account.
Please, for more information, contact us by WhatsApp or e-mail.
Thank you!

Important: All the program must be canceled 20 days before
the Teacher Training start.
Become a Certified Qigong Teacher
Join our Qigong teacher certification program to improve your knowledge and skills. By participating, you'll become a qualified instructor and join a community dedicated to spreading Qigong's benefits. Fill out the contact form to start your journey towards certification.
Frequently Asked Questions
What are the prerequisites for attending?
Anyone can join the training, all levels welcome to join.
I have been practicing Qigong for a long time. Is this the right programme for me?
In this path there are no limits to grow and learn. Teaching is the best way to learn and to deepen your practice and connection.
I don't want to be a teacher, can I still take the training?
100 %Yes! Many of our students take the training just to deepen their practice.
I don't want to do the Online first process, can I still take the training in Nosara, Costa Rica?
Yes! you can join only the 20 days intensive in Nosara Costa Rica. The Certification will be different.
Are the training physically difficult?
Qigong is a gentle form of exercise and you don't need any prior experience of Qigong to be able to attend. It is recommended that you are in reasonably good health as you will be practicing physical exercises.
Do you offer payment plans?
Yes! We offer payment in 3 installments.
What is your cancellation policy?
A $500 non-refundable deposit is required to reserve a spot.
Are there age restrictions for the training?
You must be at least 18 years old to take the training. There is no maximum age limit.
Will I have free time?
Saturday Afternoon and Sunday it's free time to study and practice by yourself or do some nice activity in Nosara. Also, from Monday to Friday there is free time too.
What should I bring?
We suggest packing:
Comfortable clothes for practicing Qigong.
Rainy clothes.
Beach necessities, including swimsuit & sunscreen.
Comfortable footwear and sandals.
Toiletries, including natural mosquito repellent.
Any special medications.
Class notebook, personal journal, pens.
Refillable water bottle.
What Our Students are Saying
We believe that there's no better way to get a sense of what we're all about than through the words of those who have studied with us firsthand. So if you're considering becoming a student at Aknanda, we hope that these reviews will give you a better idea of what you can expect from us. Thank you for considering Aknanda for your Qigong journey!
Jack McCambridge
2023-01-05
Bahru provides the best body & awareness-refining practices (Qi Gong) and treatments (Acupuncture) in Nosara. I share this strong endorsement after spending 4 months+ in Nosara and working with 8+ teachers for different forms of body work. He is a wonderful, kind, and insightful teacher and a thoughtful and interesting person! I first came to him for Acupuncture and learning Qigong. He's now been my teacher for over a year. His flexibility in traveling to where you're staying is also super helpful for making the most of your time in the sun!
Con un año de muchísimo entrenamiento, me lesione el hombro. Busque varias alternativas para recuperarme pero fue inútil hasta que por recomendación conocí a bharu y con tan solo unas sesiónes de acupuntura.... Pude volver a entrenar en pocas semanas.. Excelente atención y demasiado profesional... Les puedo asegurar que sabe lo que hace.. Gracias bharu 🙏
I had the pleasure of working with Bharú and Aknanda Healing for several acupuncture sessions and for 7 days for a private program. The private program focused on sitting meditation practice and Qigong. Bharù was very attuned to my needs at this transitional period in my life and designed a program that met my needs very well. I felt mental and physical shifts during and after the program. I had new level of clarity, focus, centering and mental and physical strength. I know this is only the beginning, and it takes great commitment but I am practicing still everyday. I think it is due to the program being designed to my specific needs, it was simple, deep, impactful and deeply connected to ancient wisdom. Aside from the practices, Bharú shared a lot of his Buddhist and Taoism teachings and wisdom, aswell which I loved. I am very grateful to have worked with Bharú and I can highly recommend him and his work.
I traveled from Mexico to Nosara Costa Rica to take this training and it was the best decision I could have made. It was a full week of teachings. I am an amateur in Qi Gong and Aknanda gave me, not only the roots to start, but also the confidence and wisdom to continue with this discipline for a lifetime. Bharú is an excellent teacher, an excellent human being, and for those who seek professionalism, he is a teacher with years of experience in his art and in his heart, he is a great guide. Aknanda's values ​​are impeccable in his teachings. They transmit the correct message of Qi Gong, Tao and Buddhism. All his students are really grateful and very touched by this course, looking forward to the next one. It was certainly one of the most beautiful experiences 🙏🏼.
I loved the workshop! Every single detail added to the experience: the place, the people and of course our wonderful teacher… everything was amazing. I feel fully energized, focused and very grateful. Totally recommended! 🙏🏼 ✨✨✨
Fabrizio Pilato
2022-07-28
I am forever grateful for the experience, Baru is an incredible teacher, guru and human being. Aknanda provides a beautiful way to go deep within and learn about one's self.
Estuardo del Valle
2022-07-05
196 / 5,000 Translation results It was just relaxing and spiritual. Very useful techniques to make a change in your life. Lots of dedication and experience from Bharu. 100% recommendable. We are going to repeat it.
Jillian Fraker
2022-04-24
Working with Bharu was such a beautiful and transformative experience. I had never practiced Qigong before. He is a thoughtful, patient, and encouraging guide. He does a wonderful job of explaining the history of the practice as well as individualizing the connections for you during each session. I always felt safe and empowered to push myself deeper into meditation as well as a more mindful connection to my mind and body. It was truly a gift to have the honor of working with Bharu.
Chantal Farand-Viau
2022-04-01
I have had the opportunity to attend Bharu's qigong classes for two months at the Harmony wellness Center. I also complemented my qigong training with acupuncture and shiatsu sessions. Bharu's exceptional skills, wisdom, and many years of experience were reflecting in every session I was privileged to have with him. Thank you Bharu, sending gratitude and loving kindness your way. À la prochaine!